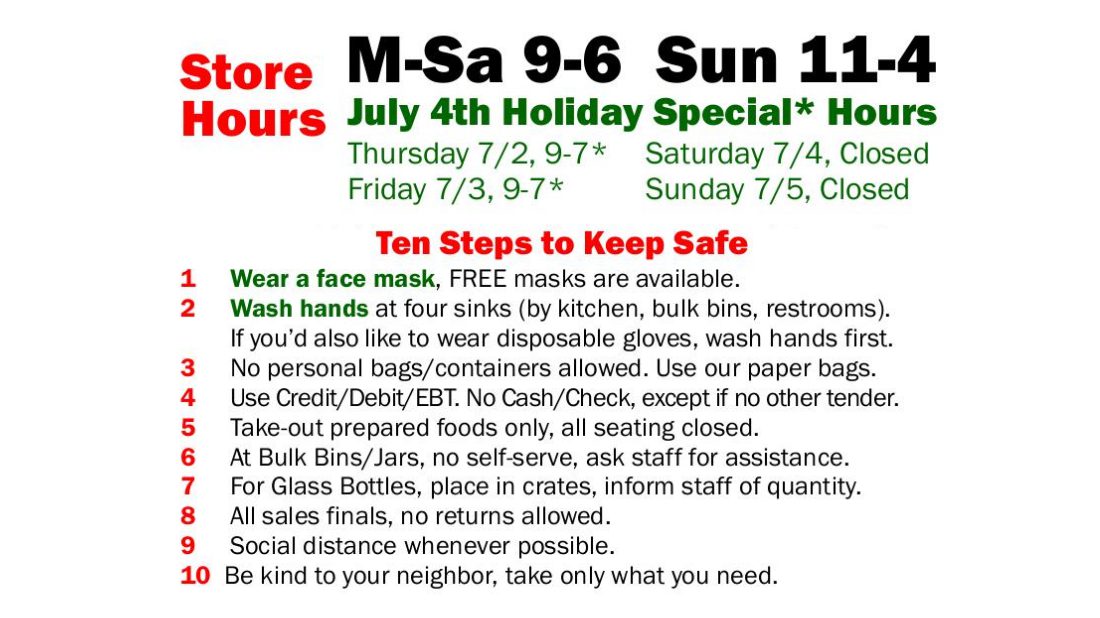 02 Jul

July 4th Weekend Store Hours

July 4th Weekend Store Hours

THURSDAY 9-7*
*Special Holiday Hours: Thursday 7/2/20
FRIDAY 9-7*
*Special Holiday Hours: Friday 7/3/20
SATURDAY Closed
Closed: July 4th Saturday 7/4/20
SUNDAY Closed
Closed: Sunday 7/5/20
MONDAY 9-6
Regular Hours: Monday 7/6/20

Daily Menu from Our Kitchen
▪ HOT SOUP (M-Sa 11-3, served at Kitchen | Closed Sunday)
▪ GRAB & GO (Open Daily) Ready-to-eat! Green Salads, Entrees.
▪ BAKESHOP (Open Daily) Cookies, muffins, pies & more!
▪ HOT COFFEE & TEA (Open Daily, served at Kitchen)

"Curbside" Pick-up, it's easy!
Email "Shopping List" to food@downtowngrocery.com with item, brand, quantity, size, flavor, etc., phone number. We'll call to finalize order, pay via CC, schedule pick-up day/time, allow two days, it's easy!

Ten Steps to Keep Safe
1 Wear a face mask, FREE masks are available.
2 Wash hands at four sinks (by kitchen, bulk bins, restrooms). If you'd also like to wear disposable gloves, wash hands first.
3 No personal bags/containers allowed. Use our paper bags.
4 Use Credit/Debit/EBT. No Cash/Check, except if no other tender.
5 Take-out prepared foods only, all seating closed.
6 At Bulk Bins/Jars, no self-serve, ask staff for assistance.
7 For Glass Bottles, place in crates, inform staff of quantity.
8 All sales finals, no returns allowed.
9 Social distance whenever possible.
10 Be kind to your neighbor, take only what you need.